Your Christmas party
in the midst of the Hellbrunner Adventzauber
At Christmas time Hellbrunn shines in a special sheen. Hundreds of fir trees grace the entire area and thousands of lights make Hellbrunn shine. It's advent market time!
Celebrate your Christmas party in the midst of the Hellbrunn Adventzauber. Greet your guests in the palace courtyard or in a private area of the market with mulled wine, punch, roast chestnuts and rustic appetizers. Spend a festive Christmas evening in our lovingly decorated rooms and let our kitchen team spoil you with culinary delights.
Let yourself be enchanted by Hellbrunn!
Michael Olah and the Hellbrunn team
are looking forward to welcoming you and your guests!
Awarded the most charming Advent market in Europe - the Hellbrunn Adventzauber
Die Planung Ihrer Weihnachtsfeier
Mehr als 20 Jahre Erfahrung zeichnet unser Team aus. Begeben Sie sich in die Hände unserer Mitarbeiter und vertrauen Sie auf unsere sowie die Expertise unserer bewährten Partner. Sie suchen noch nach einem Programmpunkt für Ihre Weihnachtfeier? Wir freuen uns, Sie unterstützen zu dürfen! In unserer Weihnachtsmappe finden Sie zusammengefasst alle Informationen zu Ihrer Weihnachtsfeier in Hellbrunn. Schmökern Sie sich durch unsere Menüvorschläge, Dekoideen, Weihnachtspackage und lassen Sie sich inspirieren.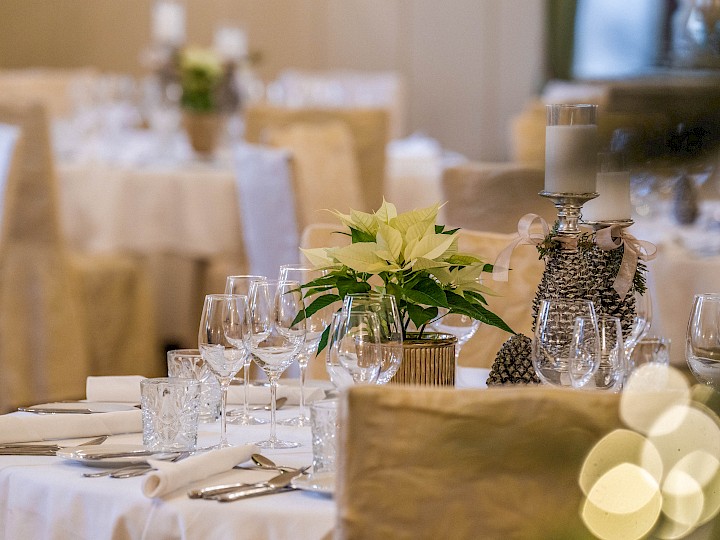 ADVENTMENÜ
für Kleingruppen bis 12 Personen
gebeitzte Lachsforelle mit 2erlei von der Gurke & Roter Rübe
Kürbis-Ingwer Suppe mit Salbeicoûtons
Duett vom Rind (geschmort & rosa gebraten) mit Nussbutterpüree, wildem Broccoli & Thymianjus
Schokoladentarte mit Zitronencréme & Himbeersorbet
Menü pro Person 59,00 EUR